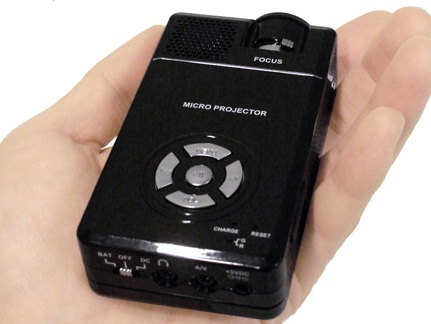 AAXA Technologies introduces the P1 pico-projector, that utlizes AAXA's own proprietary LCOS chip. AAXA P1 is a micro projector that offers 640×480 VGA resolution, 10 ANSI lumens brightness, 1000:1 contrast ratio and a Single Chip White LED lamp with 30,000 hours of life. AAXA's P1 comes with 1GB onboard memory and a microSD slot.
The P1 can project 7-50-inch image in 4:1 aspect ratio. The pico projector includes native support for MP3, WMA, OGG, WAV music; AVI, WMV, SMV video and BMP, JPG, GIF, TXT, HTML documents. It has Composite A/V input jack, a 3.5mm stereo output jack and a mini-USB port. There are also input adapters for iPod, iPhone, PSP, PDA, DVD players.
AAXA P1 Pico Projector is priced at $259.